The Oregon Trail enters the high desert of southeastern Idaho and winds northwest along the Bear River. It passes through Pocatello before turning west to meet the Snake River. Most wagon trains followed the south bank of the Snake as it carved an arc across the southern portion of the state. The Snake is now tamed with a series of dams, but it was once a swiftly flowing river that cut deep canyons, making water access difficult for pioneers.
Following our last night in Wyoming at Rock Springs, we headed northwest with a morning stop at Fossil Beds National Monument, a National Park Service unit that preserves a treasure of amazing fossils from an ancient seabed. Visitor center exhibits offer a good overview of the history and fossils found at the site. After a visit of a few hours, we set off for Idaho.
A short distance south of Montpelier, we stopped at a U.S. 30 wayside for a view of "Big Hill," over which pioneer wagons descended with great difficulty. The trail is still evident as it winds down the mighty hill.
In town we visited the National Oregon/California Trail Center, which offers an excellent living history program, where Wagonmaster Maury Young took us back to 1852 as we traveled across Idaho. An interesting museum is in the basement. It rained during the night in Montpelier and we awoke to snow in the nearby mountains.
During the drive to Pocatello, we stopped in the town of Soda Springs, where pioneers were fascinated with its many springs including some with naturally carbonated water. In the downtown area, we observed a geyser in a park behind the renovated Enders Hotel. The hotel offers a fine second-floor museum that is certainly worth a visit.
On the north end of town we experienced the magic of the local golf course where a prominent Oregon Trail swale parallels the 9th fairway. Walking the trail here was one of the great pleasures of our trip, especially as we watched local golfers playing with gloves and heavy jackets in 40-degree weather.
Pocatello is home to a Fort Hall replica, an 1834 trading post that served emigrants heading west. We spent part of one morning touring the museum and fort located in a city park. The site of the original fort is on a Native American reservation outside town and accessible only with a guide.
Following two nights in Pocatello, we headed west to the Snake River and followed the main emigrant route along the river's south bank. Our first stop was at American Falls, where a small portion of a series of cataracts remains following construction of a large dam. Then it was on to Massacre Rocks State Park and Register Rock State Historic Site. The former includes a visitor center with trail exhibits and the latter served as a campground where pioneers inscribed their names on boulders. It always amazes us how artistically most pioneers carved their names in rock.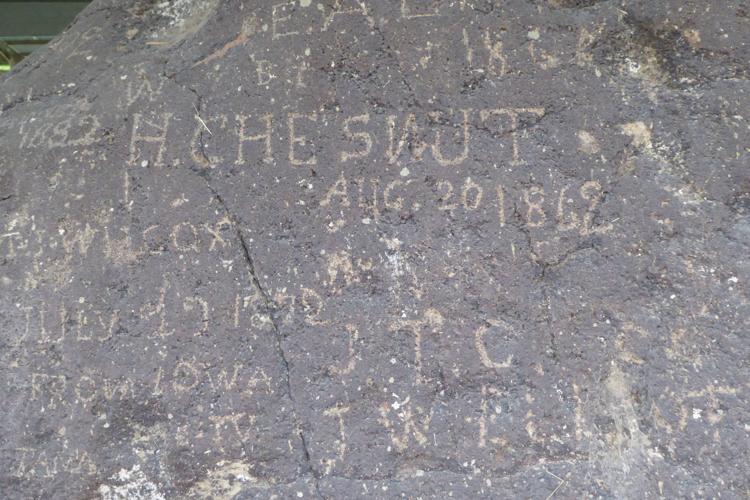 Down the road, nine miles west of Burley, we were in for a pleasant surprise. For the first time we visited the Bureau of Land Management's Milner Historic Recreation Area. There were no other visitors at the remote site as we walked some excellent trail ruts.
Following a night in Twin Falls, it was west on U.S. 30 to Hagerman Fossil Beds, a National Park Service unit with wagon ruts and excellent scenic views of this beautiful part of the state. On the way, we stopped for a photo at Thousand Springs, where the emigrants were surprised to see water cascading down lava cliffs into the Snake River.
Three Island Crossing State Park is in our list of top 10 places to visit along the trail. The park includes three islands used by many emigrants to cross to the north side of the Snake. Those who didn't cross here faced a difficult journey as they continued on the south side of the river. Visitors can visit the park's interpretive center and walk along the trail where it departs the river on the north bank. A ridge on the river's south side offers an excellent view of the crossing location.
During the drive north to Boise, we stopped at Bonneville Point, where wagon trains descended a large hill to the Boise River. Bonneville Point has a kiosk with interpretive display boards and identifiable trail ruts. This was our third visit to Bonneville Point, and it was just as enjoyable as our first visit in 2010.
Following a stop in Parma to view a replica of Fort Boise, a British trading post and competitor of Fort Hall, it was time to head into Oregon for a visit to the Oregon Trail's best interpretive center.