PRINCETON, W.Va. — Almost three weeks ago, Flo was among 2,300 young pigs heading to a farm and the eventual fate of becoming bacon and sausage, but a crash suddenly gave her a new home and a new chance at life.
A tractor-trailer hauling 2,300 pigs overturned June 29, on West Virginia's Interstate 77. The driver was not injured, but first responders suddenly had to deal with hundreds of pigs trapped in a trailer. Firefighters were soon spraying water into the trailer to keep the pigs cool.
More than 1,000 pigs died in the crash and afterward from injuries, shock and other causes. Mercer County doesn't have a stock yard large enough to hold so many animals at once, so word soon spread that anyone who wanted to adopt some pigs could come and get them. About 60 pigs rescued by the Mercer County Animals Shelter were adopted within an hour. Local farmers and others arrived with trailers, pickup trucks and even cars to collect even more pigs. The small pigs, weighing between 12 to 20 pounds apiece, were passed from person-to-person from the wreckage to new owners.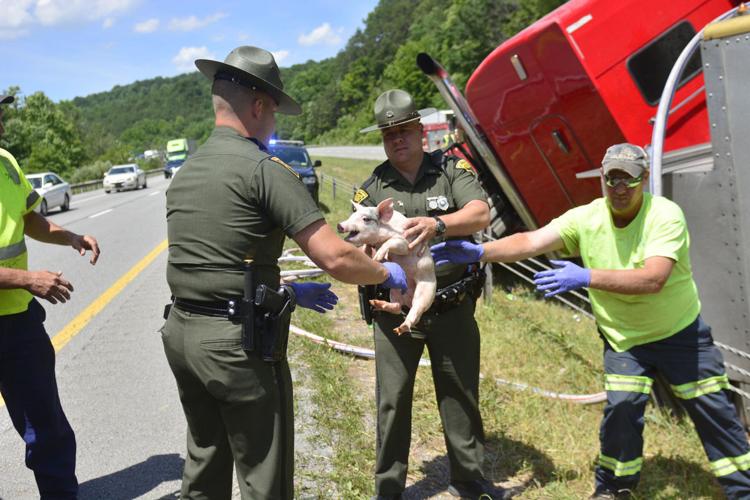 Magistrate Charles Poe said Mercer County Sheriff Tommy Bailey told him about the crash and suggested that they go to the scene. When the decision was made to let members of the public adopt pigs, Poe decided to get one, too.
"I thought, well, these were babies. Little bitty pigs. I thought, well, I'll get one of them," he said.
Poe's friend was at the scene and took several of the pigs home with him, he said.  By the end of the day, Poe went to the home and saw several pigs in a small pen. He chose one of the smaller ones, placed it in a box and took it home.
"The thing about a pig, pig's are intelligent," he said."They're as loyal and can be as intelligent as a dog. There was one little bitty one, and I said 'I want that one right there.'
The pig was so small, she needed to be bottle fed and wear a diaper, Poe said. After a few days, he took her to a person who has experience raising farm animals. The pig, by then dubbed Flo because she "goes with the flow," was adjusting to her new surroundings.
"I've got it in a place where somebody's taking care of it, and it is being treated more as a pet than a side of bacon, ham or whatever," Poe said. 
Soon Flo, dressed in a diaper and booties, was getting new admirers on social media.
Flo is a pet for now. One day she will be a hog, but Poe said he didn't believe she would get very big; he estimated her future weight as between 150 and 200 pounds.
"Still it's a pretty good size animal and pigs can be dangerous," he stated. "They could hurt you; again, it's all in how you raise it, but it's a living, breathing animal. And it's a baby."
Jordan writes for the Bluefield, West Virginia Daily Telegraph.